We are excited to announce that we will be posting spotlights on our Special Needs Ballroom students. This is our way of letting you catch a glimpse into the world of Yes, You Can Dance! and exposing you to the wonderful people who are important to our organization! In the future we will also be posting Volunteer Spotlights. Make sure to read our weekly News Posts to learn about the members of our community.
 And without further ado, we introduce to you…  Alex!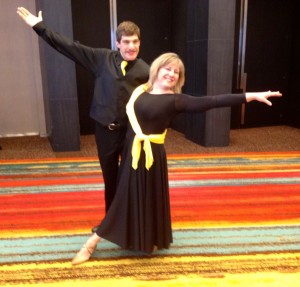 Alex has been participating in the Special Needs Ballroom Program since its' first session in February of 2012! He has been in the Level 1, Level 2, and Level 3 classes and has also been a member of the Exhibition Team for all 3 routines. Above you see a photo of Alex posing with his Dance Mentor partner Barb before performing the Waltz Routine at the PA Connecting Communities Gala.
We asked Alex a few questions. His responses are in red:
1) Which has been your favorite Exhibition Team Routine: the Cupid Shuffle, the Waltz, or the Latin Routine? The Cupid Shuffle.
2) What do you like most about your Sunday dance classes? Learning new dance routines as a member of the Special Needs Ballroom Exhibition Team.
3) When you are not dancing, what are some of your hobbies/ activities you enjoy? Video games, movies and basketball. I play basketball for Special Olympics.
Alex's great mother Karen also shared a quote with us about Alex's involvement in the Special Needs Ballroom Program:
"Alex has always loved music, to dance, and to perform. If I wanted him to learn anything, music & sports was the way to get him interested. The Special Needs Ballroom Program gives him an opportunity to do what he loves most.  I see confidence & pride in him because of it."