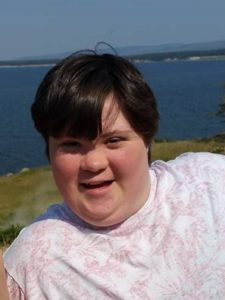 Meet Hannah, who started dancing with Yes, You Can Dance! in 2016 and is a student in the South Hills Special Needs Ballroom class.
What do you love about Yes, You Can Dance!?
I really love dancing because it is fun. When I dance I feel happy. Moving makes me feel great inside and I smile a lot when I dance! I really love my dancing partners. They make me feel happy and good inside!
When you are not dancing, what can you be found doing?
I love helping people to be happy. I am Girl Scout and just got my Silver Award. My troop was awarded 3rd place in the PPG Gingerbread House contest. I go bowling on Sundays. I like to go to the movies or play games with my friends. I also have a doll named after me!
What is a fun fact about you that you would like to share?
I got an award at my school's Olympic Day for doing all the games!
Thank you Hannah for your hard work and enthusiasm!