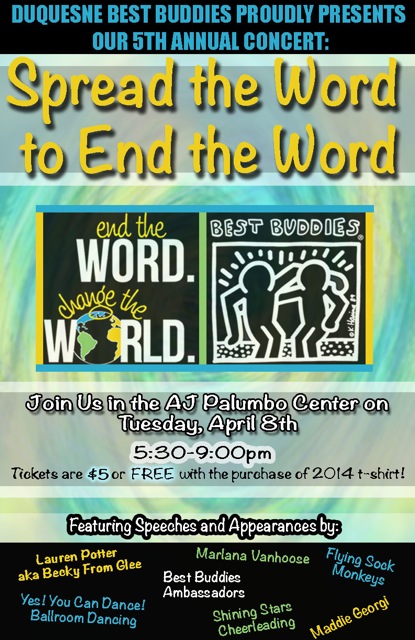 The Yes, You Can Dance! Special Needs Ballroom Exhibition Team  could not be more excited to be partnering with Best Buddies at Duquesne University by performing at their Spread the Word to End the Word Concert!
This international campaign was created by Special Olympics and Best Buddies International and the concert is held to raise awareness for people with disabilities and end the use of the word retard or retarded in every day speech. To watch Duquesne Best Buddies promotional video for the event CLICK HERE!
Our dancers will be performing their latest, Waka-Waka (This Time For Africa) Latin Routine as well as the wildly popular, Rainbow Connection Waltz both during the 6 o'clock hour. We look forward to seeing you there! Questions? Call us at 412.999.3998!