Our volunteers play a vital role at Yes, You Can Dance! and each month we highlight one of our wonderful volunteers.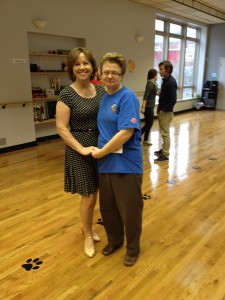 Meet Deb, a dance mentor with the Special Needs Ballroom Program in the North Hills and a senior social dance assistant. When Deb learned about Yes, You Can Dance!, she jumped at the chance to take part because she enjoys volunteering and has a passion for ballroom dancing. Yet, Yes, You Can Dance! is much more than that to Deb. She says, "First of all, it is the best dance party in town! More importantly, it is a close knit community that genuinely respects and cares about one another. We are a team that supports, encourages and grows together while learning to do something that we all love. We want to be our best for one another. I encourage anyone who is thinking about it to give Yes, You Can Dance! a try. If the dance party doesn't keep you coming back, the infectious smiles and hugs just might!"
When not dancing, Deb enjoys golfing and spending time with her husband Bryan, three stepchildren and two granddaughters. Deb is a 10-year Army veteran and before becoming a full-time homemaker, she worked as a medical technologist.
Thank you Deb for all your hard work!