Have you been wanting to get involved with Yes, You Can Dance! and our great Special Needs Ballroom Program all year long? Well… what are you waiting for? We are always looking for outgoing and kind individuals with a passion for dance to become new Dance Mentors for our Level 1 Special Needs Ballroom Class! Attend our December 8th Dance Mentor Training Session from 12-2pm at Steel City Ballroom, and end your 2013 year, as well as start 2014 with us!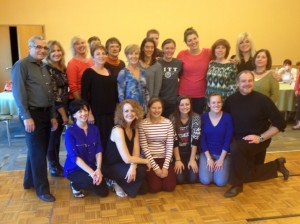 What is a Dance Mentor? Dance Mentors are volunteers who participate in a training session in order to learn how to become the dance partner of students in our Special Needs Ballroom Dance Program. No dance experience is necessary, we provide free training! Attendance of a training session is mandatory prior to participation in the program. Every Special Needs Ballroom session is six weeks long with class held each Sunday from 1-2pm. Mentors may start mentoring as early as the January 5 – February 9, 2014 session, but if unavailable, mentors may start their participation during any upcoming month. To register or to ask any questions, email jereed@yesyoucandance.org, call 412.999.3998, or click here to register on our website! 
We hope to dance with YOU soon!