Celebrate With Us!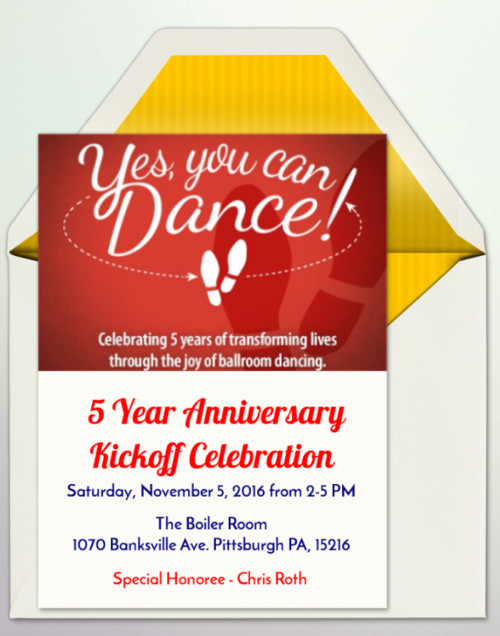 Please join Yes, You Can Dance! as we celebrate five years of transforming lives through the power of dance!
This kickoff celebration is the first of several exciting events this year for our students, volunteers, partners and their families and friends. There will be conversation, snacks, refreshments, and of course… dancing!
We will thank and honor Chris Roth, Director of Curriculum & Instruction for his outstanding service and significant contributions to our organization.
To RSVP, call us at (412) 341-1286 or email info@yesyoucandance.org. When you RSVP, please be sure to tell us the total number of guests in your party.
Please consider making a donation to Yes, You Can Dance! on the occasion of our 5th Anniversary and in honor of Chris Roth.
We gladly accept cash, checks and credit cards.  Please make checks payable to Yes, You Can Dance! and mail to Yes, You Can Dance! 666 Washington Road, Suite 201, Mt. Lebanon, PA 15228