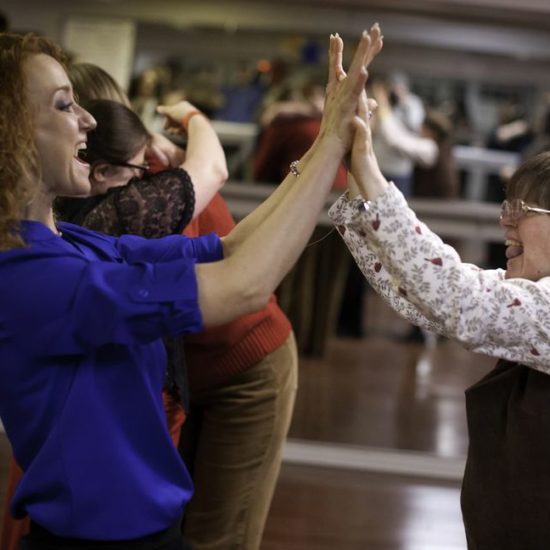 Our Mission
Yes, You Can Dance! enhances the physical and emotional well-being of individuals with intellectual, developmental, and/or physical disabilities through social dance experiences.
Our Organization
Yes, You Can Dance! was founded by Rebecca Stern in 2011, in order to share the wellness benefits and the joy of ballroom dancing with people who might otherwise not have the opportunity,  due to an intellectual, developmental, and/or physical disability.
Our team of  dance professionals, specialists in behavioral health, healthcare, and special educators  create innovative and fun-filled experiences for people with a variety of disabilities to learn ballroom dance in a safe and supportive atmosphere.  Trained Volunteer Dance Partners pair up with our dance students for encouragement and support.
Our Partners
Steel City Ballroom
We are very fortunate to partner with Steel City Ballroom as our host for our flagship Special Needs Ballroom program in the South Hills, owned by Chris Roth.  Chris realized his dream of owning his own studio  in 2008 when he opened "Steel City Ballroom" in Mt. Lebanon and he has been privileged to share his love of dance with his many students in the years since.
DancExplosion Arts Center
Owned and operated by Amy Johnston Downs, DancExplosion Arts Center is a private commercial dance school serving the North Hills of Pittsburgh.  We are proud to offer Special Needs Ballroom classes at this beautiful facility located just 10 minutes north of downtown Pittsburgh.